World's Largest Environmental & Calendar Quilt
An Environmental Theme for Every Month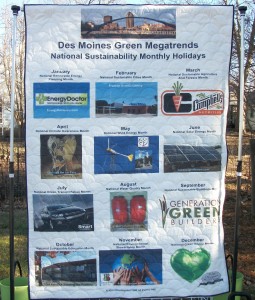 Photo of Des Moines Quilt
Click on Photo to Enlarge
This quilt has a dark blue binding to match the text color on the quilt.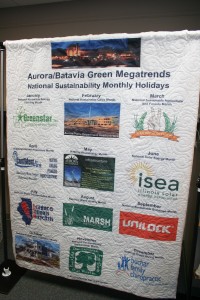 Photo of Aurora/Batavia Quilt
Click on Photo to Enlarge
This quilt has a lighter binding.
Quilt Hanging Sleeve
Please add a hanging sleeve to the quilt for display. Please follow the AQS guidelines (see below) so all quilts will hang uniformly.
The hanging sleeve is valuable for displaying each quilt for selling as well as the new owner may wish to hang their quilt rather than use it on a bed.
Video: Hanging Sleeve Instructions by Bonnie Browning, AQS Quilt Show Director
Please see page 1 of the AQS detailed guidelines for making a Hanging Sleeve.
Prewashing Fabric and Batting
Please prewash all fabric and batting.
It is advised that quilts be washed on a delicate cycle in cold water and lay flat to dry.
Please prewash the 100% cotton custom fabric you receive as well as all fabric and batting used to make the quilt to ensure uniformity. The quilts have the potential to be used as bedding at some point in their lifetime.
Regarding the 100% custom fabric, one of our quilters remarked, "Before washing, it measured 62-1/2" x 95-12". After washing and drying, it is now 62" x 90"."
Batting manufacturers usually include washing instructions with their batting. Example: Warm & Natural Batt Wash and Care Instructions (scroll down the page to "Wash and Care Instructions")
Shipping Your Quilt (if needed)
Please send your quilt by FedEx Ground or UPS Ground so that it will have real time tracking. The USPS only tracks whether the package has arrived or not and does not track in real time.
Protect Your Quilt for Shipping
To protect your quilt from acids in paper (cardboard, wood) products and other hazards, our award-winning quilter highly recommends using a Ziploc® Brand Big Bag (XXL). These bags cost $5.79 for a 3/box from Target.
If necessary, please send your quilt to us at:
Catherine Corbin
305 ½ W. Van Buren Ave.
Fairfield, IA 52556
Phone: 641-472-4199
---
We would like to be as environmentally sustainable as possible.
We prefer using 100% cotton for all the quilt fabric as much as possible, including the batting and backing.
Organic cotton would be the very best.
If at all possible, please avoid wrinkle/crease resistant fabric that has been treated with harsh chemicals like formaldehyde.
Please contact us with any suggestions you have to make this an easier and better project.
Allen Rubin and Catherine Corbin
Mobile phone: 641-451-5199
Email: environmentalfame@lisco.com


---
One of our quilters kindly forwarded the following as some suggested ideas for backing fabric and batting:
Backing fabric:
I had recommended unbleached muslin as it is usually less expensive, it is very versatile, and being unbleached it is not as processed or as hard on the environment. Organic muslin would be even better. Here are links to some resources for organic cotton and regular muslin.
===============================
Batting:
I'm assuming you'll want a fairly low-loft batting that will drape nicely and not be too "poofy." Natural cotton batting is available and would work nicely with this project, as would several natural fiber blends.
Soy Soft Soy/Organic Cotton blend batting: 90″ wide by-the-yard batting would need 2 yards per quilt. ($17.50/yard)
---
Future Topics
How to Make a Year Quilt
You Can Be Part of the World's Largest Calendar Quilt
Quilts in 50 States